Digitallife MIDI-C01 USB-C MIDI Cable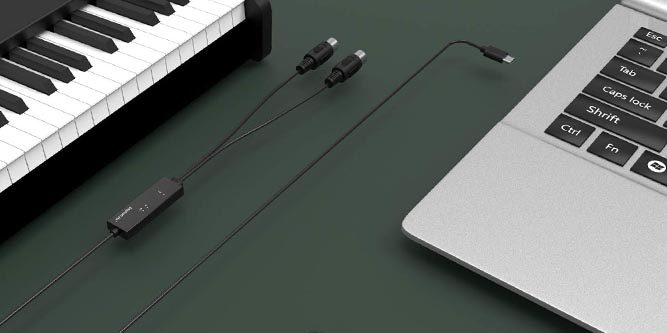 Guide to the Best USB-C & USB-A to MIDI Adapters
When many people think of recording music, they think of something like this. You practice and practice and practice until you're blue in the face. Then you book some time at a recording studio for hundreds of dollars a day. If you aren't recording a killer track every single time, those studio fees can rack up in a hurry. Let's be fair. A recording studio is essential if you want to record live musical instruments. But what if you're dropping an electronic track, or just want to listen to your compositions?
In that case, all you need is a computer and some recording software. There are dozens of suites available, on both PC and Mac. Find some software you like, and you're ready to go, right? In theory, yes. There's nothing stopping you from using a QWERTY keyboard and a mouse to create your compositions. But these are clunky tools, and good musicianship requires something a little more elegant. For instance, a musical keyboard is designed for playing. Instead of painstakingly clicking your way through a timeline with a mouse, you can just play your music. This way, you can get in the flow without your hardware getting in the way.
With a MIDI interface, you can. MIDI is a tool for storing and sending music in a digital format. Instead of recording every nuance of a song, a MIDI track just captures the basics. It records the length and tone of each note, and can record 16 notes simultaneously in each track. With MIDI software, you can then apply an instrument "voice" to each track. This allows you to synthesize anything from a drum to a violin, and even add character to each note.
If you're going to do this, though, you need a way to connect your MIDI keyboard to your computer. Unless you already own a specialized music workstation, your computer won't have a MIDI input. This can be problematic for desktop owners, since you'd need to install a PCIe card. It's even trickier for laptop owners, who may not have any expansion space at all. But with a USB to MIDI adapter, you don't have to worry about those problems. You can plug your keyboard directly into the computer.
Today, we're going to be reviewing three different USB to MIDI adapters. We'll begin with the DigitalLife USB Type-C MIDI Cable. This is a USB Type-C adapter that's suitable for smartphones as well as computers. Next, we'll look at the Havit 5 Pin MIDI to USB Cable. This is a sturdy, no-nonsense adapter that's designed for the rigors of travel. Finally, we'll review the FORE MIDI to USB Interface MIDI Cable. This cable is engineered to resist interference from other electronics in environments with lots of cabling. Which is the best? Let's take a closer look, and see what we discover!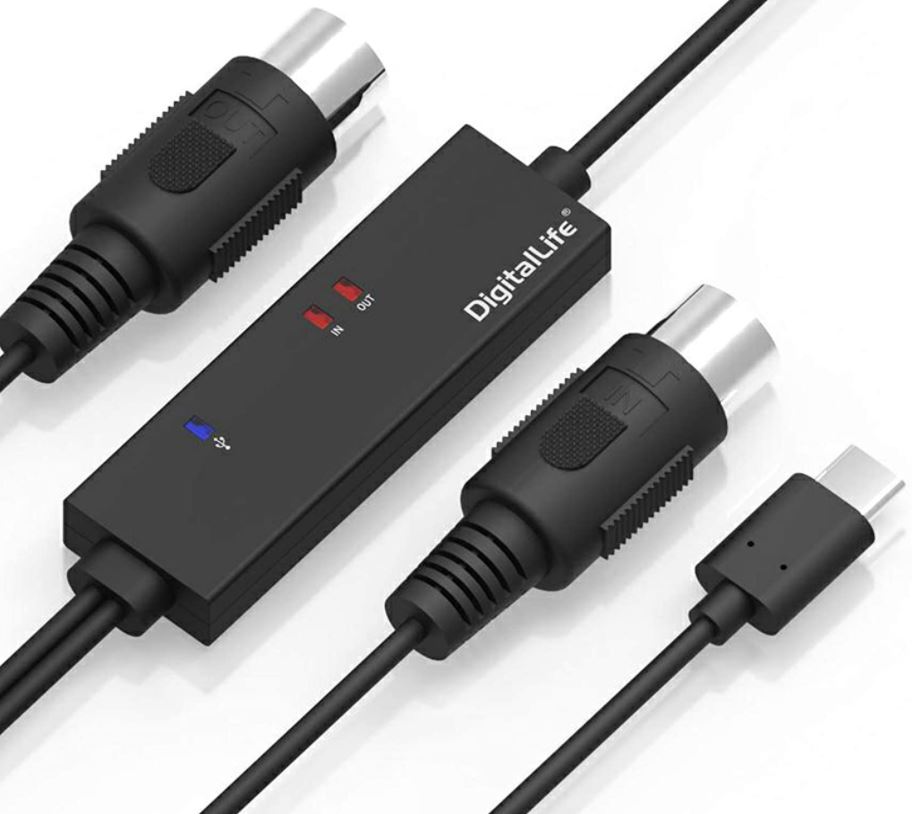 DigitalLife USB Type-C MIDI Cable
The DigitalLife USB Type-C MIDI Cable is a Y-shaped cable that converts MIDI to USB and vice-versa. Each MIDI tip has a standard 5-pin design, with a rectangular housing in the center. At the other end of the cable is a USB Type-C tip. One thing we should mention at this point is that some keyboards have one MIDI port, while others have two. If your keyboard only has a single port, that's just fine. It simply means that you can only use the adapter for recording to your PC. You won't be able to send MIDI tracks from your PC back the other direction. This is not unique to the DigitalLife cable. It's the same for any USB to MIDI adapter.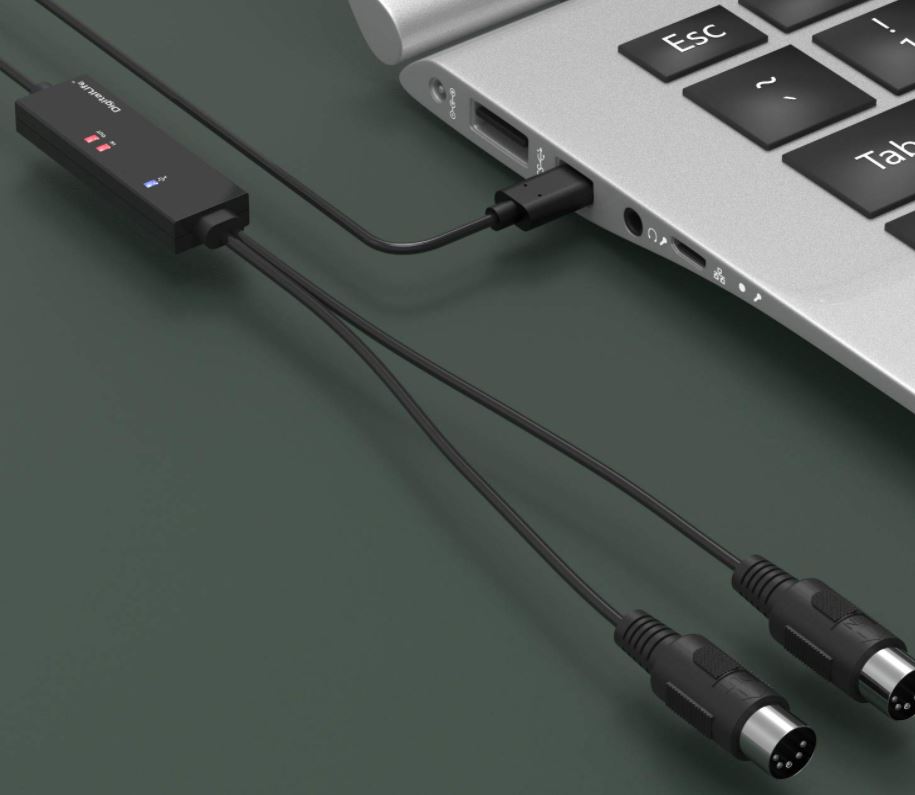 The cable itself is only three feet in length, which can be a bit short for some applications. That said, it's reasonably flexible, and won't tangle easily. When it does, the rubbery insulation makes it easy to untangle. Not only that, but the connections and tips are all well-engineered and well-shielded. They have a beefy housing with a textured grip, so you can pull them out without tugging the wire. If the wire does get tugged, reinforced rings at both ends will help to prevent serious damage. The MIDI plugs themselves are also built to perfection, with a sturdy, metallic design.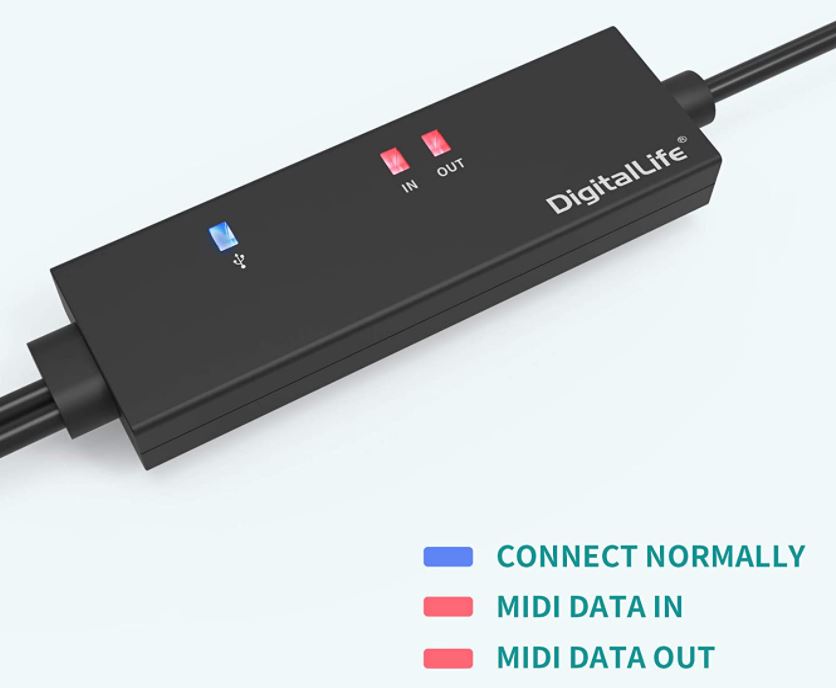 The middle junction box is where the adapter hardware is housed. The case is a plain matte black, suitable for onstage use, with a discreet DigitalLife logo on one corner. There are also a trio of LEDs that illuminate to show you the adapter's status. A blue LED lets you know when the USB connection is active, as well as when the adapter is powered. These are one and the same, since the DigitalLife adapter gets its power via USB. Two red LEDs let you know when a signal is being sent or received respectively. With all of this information at your fingertips, it's easy to troubleshoot any hardware problems.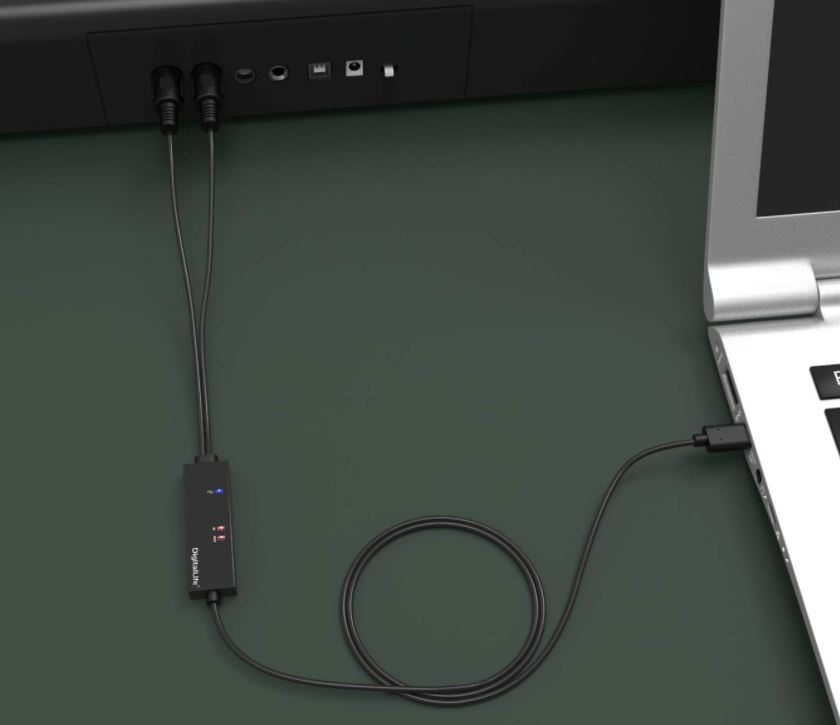 The DigitalLife USB Type-C MIDI Cable is compatible with all versions of Windows, starting with Windows 7. It's also compatible with all versions of Mac OS, beginning with Mac OS 10.15. No driver installation should be necessary, provided you have a working internet connection. Your operating system will automatically detect and download the correct drivers. In theory, this should also be the case for Android. However, DigitalLife does not officially provide Android support, and support for different devices varies from Android phone to Android phone. MacBook Pro owners should also look at their individual laptop. Many newer models only support Thunderbolt, in which case you'll need a Thunderbolt 3 hub for any USB device.
DigitalLife covers their USB to MIDI adapter with a 12-month manufacturer's warranty. By most standards, this is a fairly short warranty, but it's enough to find any defects. If you run into any issues in this time period, just send it back for a full refund or a replacement.
Cited from : https://nerdtechy.com/usb-midi-adapter
---